Tuition questions linger for DACA students
Esteban Manzo
Mesa Legend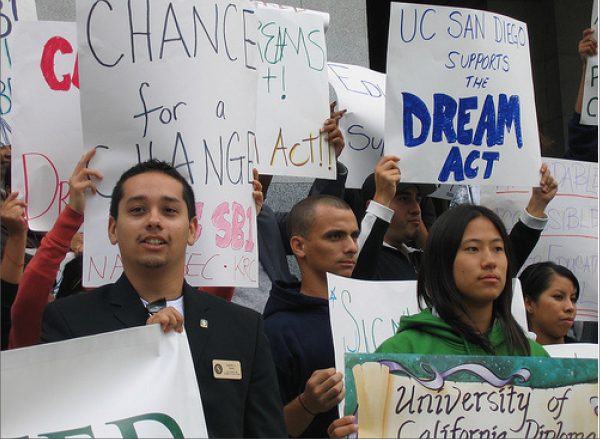 Arizona Attorney General Mark Brnovich filed an appeal July 1, 2015 to stop people in Arizona under President Obama's deferred action order from getting in-state tuition for school. Brnovich is citing Proposition 300 in the appeal.  The proposition is a voter-backed initiative passed in 2006 that bans unlawful residents from getting state benefits.  Brnovich has yet to speak out about the appeal but previously stated that the appeal is "not about immigration, it's about the rule of law and enforcing Arizona's voter protected statutes." "We feel that voters were clear with Proposition 300 when they decided that individuals who are not in this country lawfully should not be given public benefits, including in-state tuition," Brnovich said.
Judge Arthur Anderson ruled in May that those under deferred action are considered to be here lawfully. Consequently Proposition 300 doesn't apply to them. Anderson said that DACA (Deferred Action for Childhood Arrivals) means the students are "lawfully present" and thus eligible for in-state tuition. The 2006 law, as approved by voters, denies in-state tuition to anyone who is not a citizen or legal resident of the United States or who is without lawful immigration status. According to the Department of Homeland Security (DHS), DACA students have legal presence but they don't have lawful immigration status.  The fact that a person is not accruing unlawful presence does not change whether he or she is in lawful status while remaining in the United States, according to a fact sheet put out by DHS.
"Deferred action does not confer a lawful immigration status. Your period of stay is authorized by the Department of Homeland Security while your deferred action is in effect and, for admissibility purposes, you are considered to be lawfully present in the United States during that time," Anderson said.  "Federal law, not state law, determines who is lawfully present in the U.S.," Anderson said.  Because of Anderson's ruling, all DACA students currently pay in-state tuition.
Rafael Ortega, a local immigration lawyer, claims that the Attorney General is on a public relations tirade and once again puts Arizona in the center of the immigration debate. "He knows he'll lose this fight, but that won't stop him from wasting taxpayer money to promote his false argument to gather support and votes. You can't fight against a poorly written statute that was passed by the voters of Arizona," Ortega said. He explained that the policy has allowed students to pay the in-state rate of $70.50 per credit hour, a figure that will go up to $75.50 next school year.  That translates to $4,530 for someone seeking an associate degree.
Without the policy, dreamers next year would have to pay the out-of-state rate of $352 per credit hour, or $21,120 for the same degree. "This is ridiculous. Students who have lived here their whole life and who have no other place to go have to pay this absurd amount of money," Ortega said. He also said that after voters approved the measure in 2006 requiring the higher tuition, student enrollment dropped by about 15,000, and college officials estimated from 10,000 to 12,000 of those students were not here legally. "Economically this is huge impact for the state of Arizona and colleges by having these dreamer students out of school," Ortega said.
Dan Burch, a 58 year old Arizona citizen, argues that it's not fair for out-of-state residents to pay higher tuition rates when out-of-country residents get in-state tuition rates. "I don't get it. We already helped these dreamers pay their K-12 education and now we can get some of the money back encouraging them to get their college degree and later taxing their income," Burch said."How come children of illegals get special privilege over our own American citizens? What about their dreams? Only children of illegals get to have dreams and not real Americans? Illegals are taking jobs from Americans," Burch said.
"Dreamers are in a difficult position, but they are not yet citizens of the United States, and until they are, Arizona should not give them any of the benefits of citizenship," Burch said. He also said that there are many universities in Mexico and that is where citizens of Mexico should go. Undocumented students face many challenges on the road to college, including the struggle to understand ever-changing legislation for immigrants seeking higher education in the United States.
David Cruz, a 24-year-old student at Arizona State University was undocumented for more than 6 years before legalizing his status. Cruz said he remembers how tough it was to pay out of state tuition as an undocumented undergraduate student. He typically relied on private scholarships, because his undocumented status made him ineligible for state and federal financial aid.  "I think it's almost impossible for Dreamers, many of whom come from low income backgrounds and have immigrant parents who are probably working extremely hard just to get by, to be able to afford out of state tuition," Cruz said.
Cruz also mentioned that Arizona has one of the worst educational systems and is clear that citizens are not trying to do anything to improve their education.
"Dreamers have been living in Arizona since they were little kids and that is why we are considered in-state," Cruz said. "The fight should be over — why do we even have in-state and out of state tuition? This is a great free country and all students should have the right to have an education no matter what state they choose," Cruz said.
As Congress continues to debate immigration reform, Arizona continues to determine what is going to happen with the in-state and out-of-state tuition. Currently DACA provides an opportunity for a segment of the undocumented immigrant population to remain in the country without fear of deportation. The law also allows them to apply for work permits, and increase their opportunities for economic and social incorporation.
Many DACA recipients seek further social integration. In fact, almost all recipients indicate that they would apply for U.S. citizenship if given the opportunity. Although DACA opens up economic opportunities for young aspiring Americans, it does not address the constant threat of deportation still facing those closest to them, including mothers, fathers, and siblings.