Free preventive dental services provided by Mesa Community College students
Students of Mesa Community College's dental program will perform free dental screenings for qualified participants on Saturday, September 9 according to a recent statement.
The off-campus event from 9 a.m. to 1 p.m. will be at the Arizona School of Dentistry and Oral Health, located at 5855 E. Still Circle in Mesa.
Qualified participants can schedule a first come first serve time slot for the event by calling any of the numbers listed in the flier below.
The phone numbers listed offer direct communication with MCC dental students who will be performing the screenings.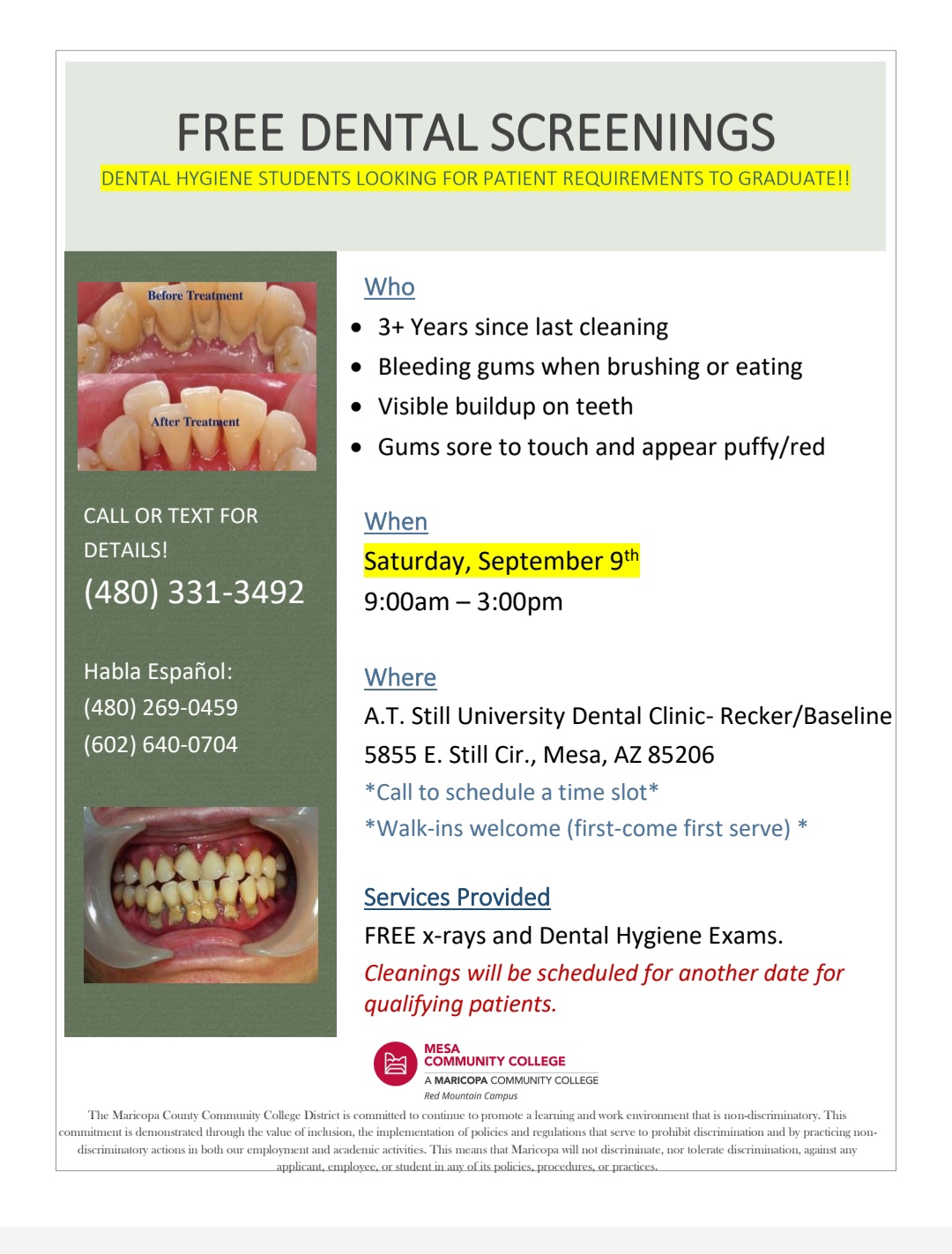 The free screenings look to benefit in-need individuals who have been diagnosed with dental disease or have not been to a dentist in three years or more.
All participants receive a full X-ray exam, with $20 personal copies available for pickup later at ASDOH.
Low-cost dental services are then recommended if needed.
Current MCC students are eligible to receive a discount for dental care, with $360 as a high end estimate for typical services, according to a recent statement announcing the event.
Participants also receive a health history exam, which includes a blood pressure and glucose check, along with a head/neck and soft/hard tissue evaluation, according to director for MCC's dental program, Kimberlee Zitek.
Certain participants will be selected by the MCC dental program to be offered discounted personalized treatment based on a diagnosis, with all student services done under the supervision of licensed dental hygienists and dentists.
Zitek says the program is as much about providing affordable dental care as it is for building experience and knowledge for future dental professionals.
"They [dental students] need exposure to treating patients with more complex periodontal disease," said Zitek.
The event acts for many students as the core hands on experience they need to pass the state exam that requires the use of more precise and technical equipment.
Zitek highlighted that above all, the event "places a sharp focus on providing our patients with holistic oral health care," she said.