Fiesta mall demolished for redevelopment
The demolition of Fiesta Mall in Mesa is in full swing more than a month after it was slated for destruction with plans to redevelop the land by valley investor, Verde Investments.
Construction crews were seen compacting the remnants of the mall's structures Thursday, now reduced down to piles of concrete and steel rubble.
Crews were also seen using water cannons to reduce dust created from the destruction, in accordance with city regulations.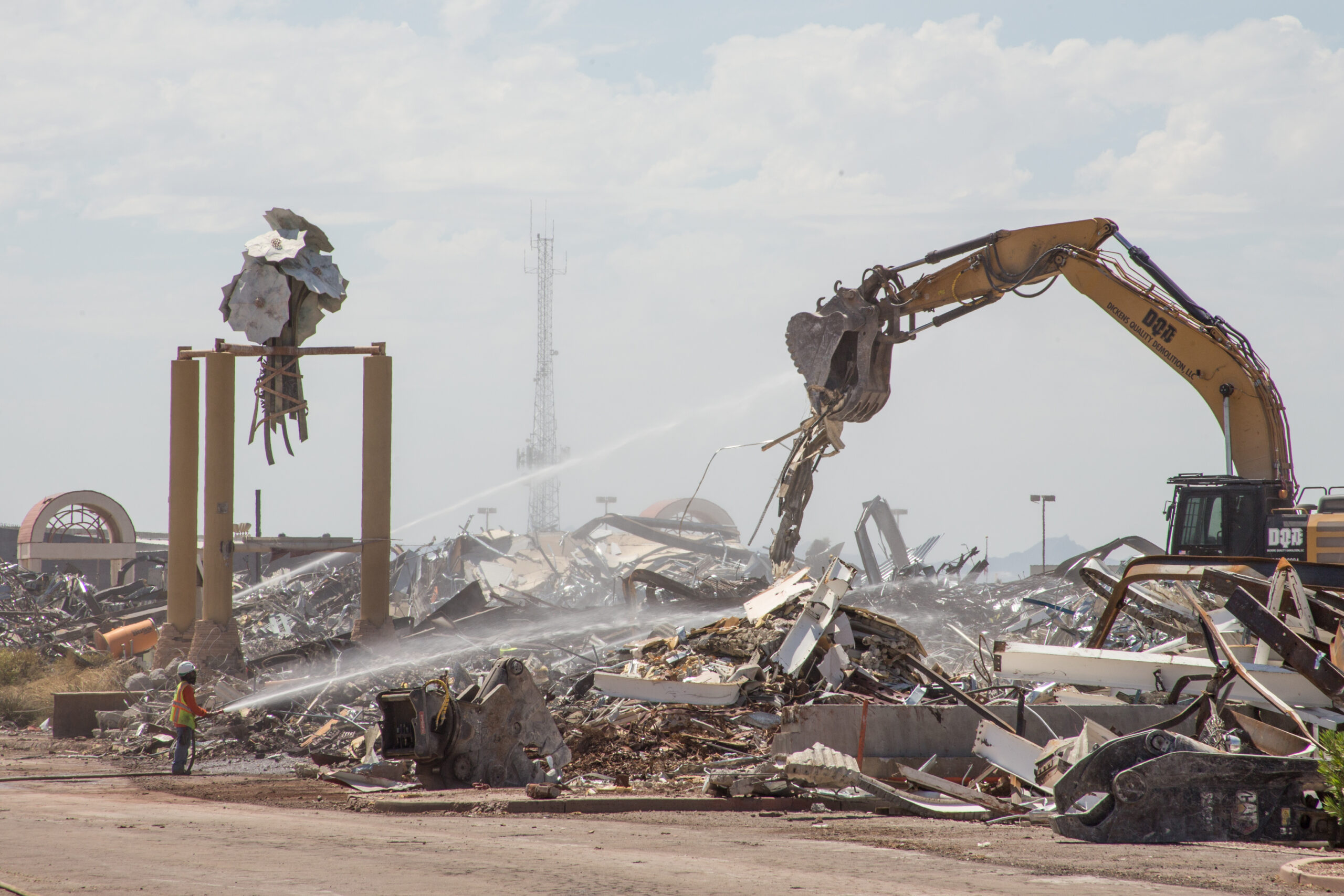 Construction crews use a water cannon to contain the dust created by an excavator demolition of Fiesta Mall in Mesa, as seen on August 31, 2023. (Photo by Rey Covarrubias Jr.)
Demolition of the mall is expected to last through the rest of the year, according to spokesperson for Verde Investments, David Leibowitz.
"Verde Investments' main concern here isn't speed. We want to make sure that every day we proceed as carefully as possible, so that our team members and our neighbors stay safe at all times," Leibowitz added.
Once the heart of Mesa's "Fiesta District", the shopping mall officially closed its doors in 2019 when Dillard's exited as its last remaining store.
Verde Investments first purchased select portions of Fiesta Mall in 2015, and bought the entire property in 2020.
Plans to convert the land into office spaces stalled due to COVID-19, and Verde Investments revisioned the site as mixed use residential, filing a pre-submittal application with the city of Mesa in March of 2023.
Verde Investments is currently in the process of rezoning the land in accordance with the city of Mesa's 2040 general plan.
"The redeveloped Fiesta parcel could include up to 4,000 new apartments and homes, plus retail and commercial components with a strong emphasis on quality design and open space," read a statement from Verde Investments.