Program Feature: Construction trades
Mesa Community College's construction trades program has been offering students opportunities to get started or improve in the field as they have expanded to three brand new courses for the fall 2023 semester.
The 30 credit program offers plenty of hands-on experience in their plethora of classes. Students looking to get a degree in construction management take a two plus two college program. Students take their first two years at MCC, and the remaining two at Arizona State University or Northern Arizona University.
The construction trades program was introduced last year, and classes lead to either a certificate of completion or lead to an associates degree if choosing to continue.
The classes offered under the construction trades program are carpentry, plumbing, electrical, HVAC, masonry, and solar.
Plumbing, electrical, and solar were made new certificate programs for the fall 2023 semester.
"This is a brand new program, there's only really three campuses in the maricopa system that is actually offering anything close to it and they're just starting out. We're the biggest campus, we're the largest campus, so we're going to go to the maximum disciplines," said David Cain, construction trades program director at MCC.
Cain stated that the program has a headcount of around 900 students, and enrollment has increased by almost 20% from previous semesters.
Many of those students have jobs in the construction field and look to improve their positions to become project managers or construction managers, according to Cain.
When looking at the average age range of students in the program, Cain also stated that although there are many 18-24 year olds, the average age of students is 27-32 year olds with families and full time jobs.
The Construction trades program is all hands on, and students can go to a class and build a house then learn to wire it, plumb it, add solar, and add air conditioning.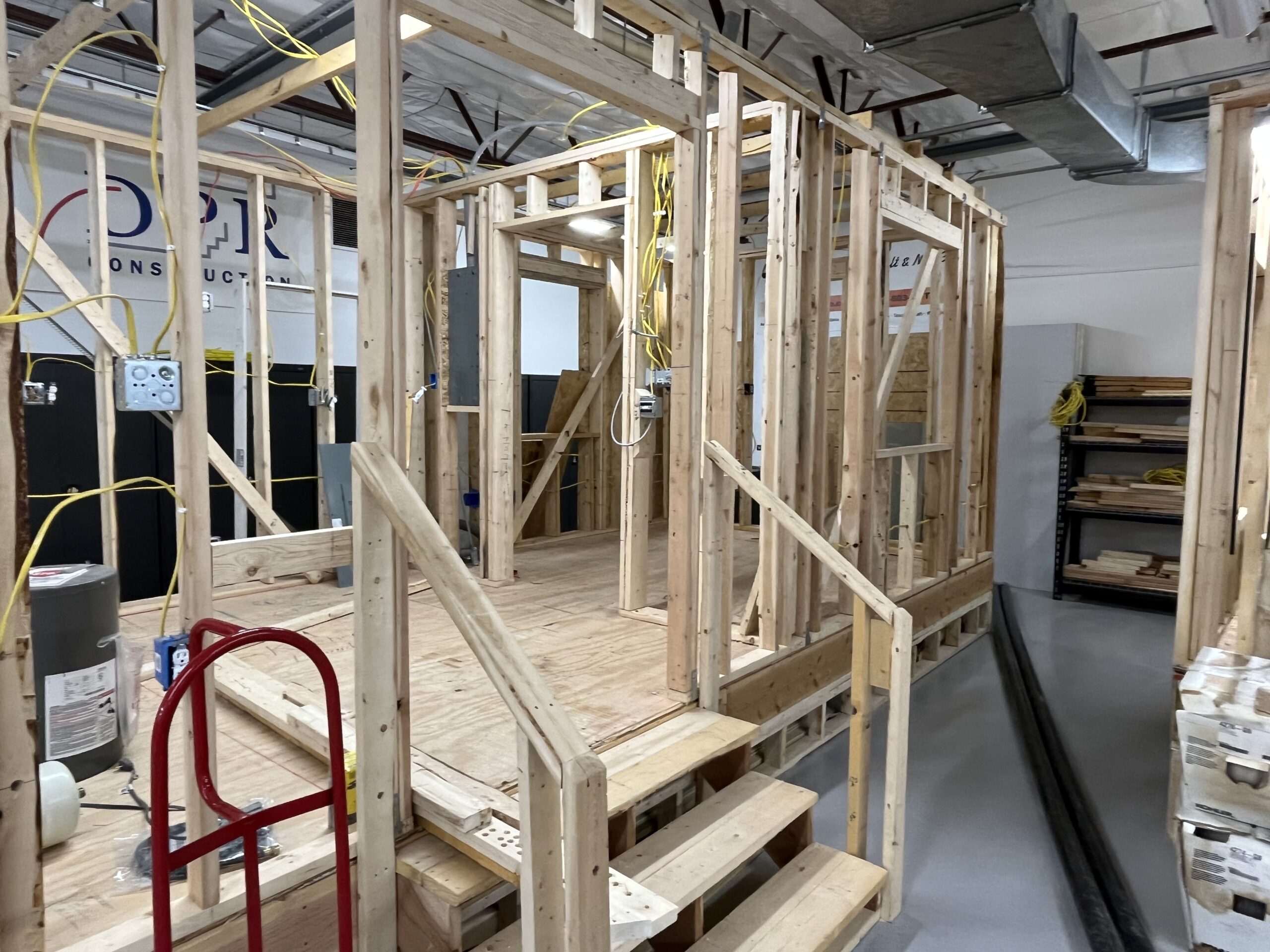 An example of a house being built and wired in their large workshop classrooms on Sept. 18, 2023. (photo by Diego Esquivel)
A future addition to the program is the construction yard, which already has a large eight foot fence in the parking lot just east of the construction building.
This yard will simulate working outside under a canopy, similar to real construction sites, to prepare students for real life situations opposed to a classroom with A/C.
A job office with A/C nicknamed "the cooling room" is also looking to be built for students to cool off during their work.
"You don't have to have a four year degree to make $100,000. Many of our plumbers are making $75,000-$85,000 and you're not in debt, you go to school for two years" said Cain.