Stephen Peck
MesaCC Legend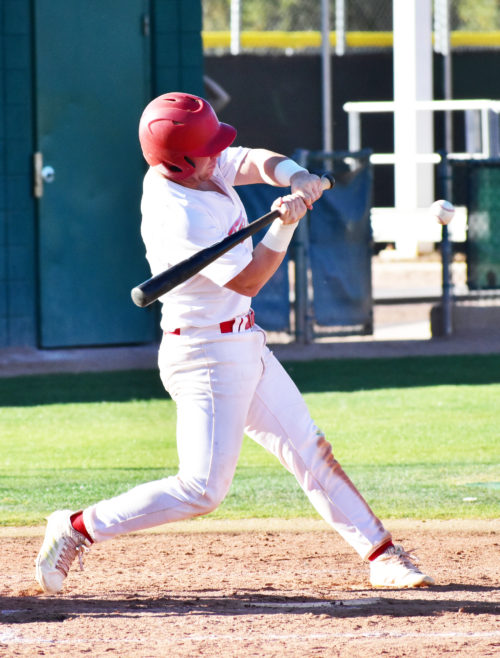 MCC Men's baseball is on a two-game losing streak after playing Arizona Central College over the weekend. The first game was at the Thunderbirds home diamond where Mesa fell 5-2, on Friday, Mar. 23. The next game was the following day in Coolidge, Arizona at the Vaqueros home field. The Vaqueros won the second game 13-8.  Central Arizona stepped into the batter's box, after winning on the road, and put up four runs in the first inning after holding Mesa to a single run. The Thunderbirds scored two more runs in the top of the second inning.
Central added five runst o their lead after sending the Thunderbirds back out on to the diamond. Thunderbirds put a run up on the scoreboard in the top of the inning for the next three innings. MCC still trailed the Vaqueros by three runs after the fifth inning.  Both teams would not score in the sixth inning. Central notched three more runs when they came to bat in the seventh inning.The Thunderbirds got two more runs in the top of the eighth, which would not be enough as Central notched another run in the bottom of the inning.
MCC would lose its second game, 13-8, with 19 hits and give the series to the Vaqueros. The stats for Mesa were not available on either team's website. The previous day the two teams played in Mesa. Central Arizona College would take the first game of the two-game series 5-2.  Neither team scored in the first four innings as Jimmy Boyce and RJ Dabovich were battling it out on the mound.
Boyce was the first one to have the opponent breakthrough on the scoreboard. The Vaqueros notched three runs off a Brennan Reback homer to right field that scored teammates Reagan Teegarden and Daniel Cervantes. Alix Garcia made it a 5-0 lead in the top of the eighth with another homer to right field scoring teammate Jake Vander Wal. The Thunderbirds remained scoreless until Marcus Skundrich singled to right-field, earning 2-RBI, bringing in Paul Steffenson and Connor Denning. The team travels to Yuma to face the Matadors of Arizona Western College for a doubleheader Tuesday, Mar. 27, 2018.
These are archived stories from Mesa Legend editions before Fall 2018. See article for corresponding author.
Latest posts by Mesa Legend Staff (see all)