"Something I find bothersome in art is how excruciatingly limiting the concept of gender in art can be," said Frediryck Ziemann, a Fine Arts major and transgender student at MCC.  To broaden the minds of his fellow artists on campus, Ziemann decided to pose as a model during an open art session on Feb. 20 in the Life Drawing Room, AC 2W.  "What I started thinking, is that it would be a great learning experience to actively challenge the individual artist's concept of what defines a 'man' or a 'woman,'" said Ziemann.  "I approached Dr. Gingher Leyendecker with this line of logic, and she signed me up; she's an excellently progressive teacher who is committed to teaching students to understand the human form."  Leyendecker, professor of Life Drawing and Art Anatomy, said she was unsure of what the reaction would be from the artists.  "We talked at length about how to present having a transgender model to the open session group, which includes both students and community members," Leyendecker said.  After her discussion with Ziemann, Leyendecker provided links to the artists with information about transgenderism, granting them the decision to attend or not.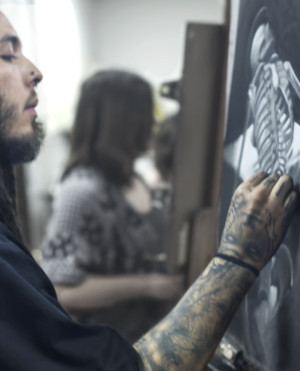 "On the day Fred modeled, we had a record turnout," said Leyendecker. "Everyone was incredibly supportive and respectful."  Both Ziemann and Leyendecker said they were pleased with the positive reaction from the artists.  "During and after the event, the artists were very professional and respectful of my boundaries," said Ziemann. "Many of them had not even heard of transgender people before this event, which made the chance to open that avenue of dialogue far more profound."  Maria Galan was one of the artists at the open session. Galan said she felt privileged that Fred let her and the other artists draw him.  "Myself and many others thanked him for the opportunity, and likewise commended his efforts. "There was a large turnout, and I'm glad it was all of very understanding people," she said.   According to Galan, drawing a transgender model during the live session did not pose any different challenges than usual.  Speaking frankly, as an artist, there was no difference between this and any other of the many times I'd come to class to draw a model," said Galan. "I spent far more time trying to make sure I'd drawn his arm the correct length than I did caring about where the model fell on society's crude gender construct."
The support for Ziemann didn't end in the studio after the session concluded, according to Leyendecker.  "Fred is pretty much known by everyone now and has a lot of support from friends, classmates, community artists, and teachers," she said.  "It is my hope that this isn't an isolated incident, but a trend of acceptance for people of all types, and a distancing of stereotypes and misunderstanding," said Leyendecker. "I hope that all of our MCC students and those across the district will engender a growing sense of unity—so that no one has to feel unsafe, left out, or unsupported."  Ziemann will continue to pose during live sessions , and has recently been added to the regular roster for MCC Life Drawing, which will give him the opportunity to model for classes he does not attend as a student.  In the future, Ziemann said he plans to pursue painting and writing a science fiction novel, with the goal of establishing himself as a transgender artist."I feel that the time is right for more transpersons to have their voices heard, and art is my media for this," he said.
 Ziemann's next open session will be May 9 from 10 a.m. – 1 p.m. in AC 2W.  For more information contact Gingher Leyendecker at at (480) 461-7623 or email gingher@mesacc.edu.