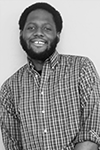 Karlyle Stephens
Mesa Legend
There is a fresh meaning to the "black" in Black Friday.  For the second year in a row, the money spending ritual that takes place on the day after (and many times the night of)thanksgiving, was subject to boycotts. Blacks represent 13 percent of the population in America and account for about $1 trillion of consumer spending according to a Nielsen report.With this in mind, the movement that has often been referred to only as "thugs" and "agitators" are showing the world the most effective kind of protest with #blackoutblackfriday.
The boycott called for all supporters of 'black lives matter' to not take part in the biggest shopping day of the year. This is great because around this same time last year I was a little bitter about the many tragedies that had occurred with little to no justice. I was most disappointed with some of our NBA heroes at the time.  They had a wonderful opportunity to take a powerful 'people over profit' stance when emails and recordings revealed the existence of some very racist team owners. But as this year ends- with no less, if not more tragic events than last year- there's much to be hopeful about this time around.
For this we have to thank the new black Friday and a couple of students and "amateur" student-athletes at the University of Missouri. The Mizzen football team may be far from making the big college football playoff, but they had the biggest victory of the year when black players on the team refused to play until the university president resigned for failing to respond to complaints of racism on campus. In this case, the value was in the black bodies on the football team. The university would have the lost $1 million had the protest continued. But it only took two days for then president Tim Wolfe to finally get the message. This message is stronger than any riot or march. It says, "If the lives of black people are still yet to matter, then neither will our profits."
These are archived stories from Mesa Legend editions before Fall 2018. See article for corresponding author.
Latest posts by Mesa Legend Staff (see all)