John Tenney
Mesa Legend
 Baseball, our beloved national pastime, has been collected by millions of Americans for generations. Cards, gloves, antique equipment and signed memorabilia are all sought after by novice and experienced collectors both here in America and worldwide.  Measuring at 3.5 x 2.5 inches, the diminutive baseball card represents a direct link to baseball's rich and storied past. Originally used in tobacco packs of the 1880s, the cards were a photo of a particular player or entire baseball club that has posed in a studio for a photograph. Cards themselves have come a long way, benefiting from advances in photography and graphic design.  "First buy what you can afford, and collect what you like," said Mike Dingwell, the 52 year old owner of Box Seat Collectibles in Phoenix. "When I was a kid, I collected cards starting at the age of five."  Luckily for Dingwell, his mother saved all of his cards, which provided a solid start for him later on in the business he now owns and operates. "Sure, you can definitely make this hobby pay for itself, if you pay attention." He added.  Dingwell also trades cards outside his business, looking for cards he needs to complete a personal collection dating back to 1972.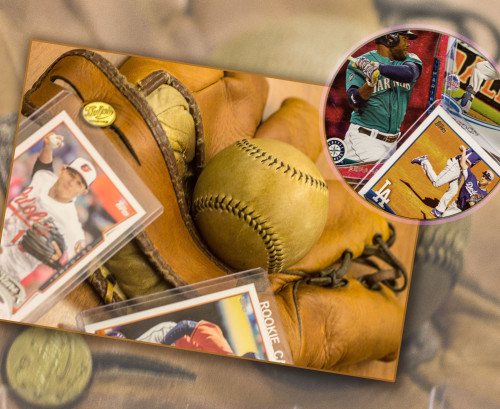 For those who may find cards too dull, there are a small group that is collecting antique gloves, catcher's masks, bats and other equipment dating back to the 1880s. 46 year old  Mike Dietrich, the associate dean of pharmacy education at Northwestern University in Glendale is an avid collector of both cards and equipment who also started young, "The big thing for me was finding the glove hobby. I found the hobby in 1994 or 1995 at a house my grandmother was living in where I had found an old glove that had been left behind," Dietrich said.    "The gloves are tangible. You can touch them. You can put them on your hands. If you have a glove that is in good condition you can certainly go out and play catch with it.  Baseball cards are dead, you'd memorize the facts on the back then put them away." Dietrich said, emphasizing what drew him into a different world of collecting baseball's rich past.  "They have substance, that's what made the difference for me."
While store owners look at collecting as part hobby and part financial investment, Dietrich is a pure collector.  "It's really about the collecting for me. There are things I want to add to my collection, but not from a financial stand-point," Dietrich said.  Baseball collecting offers a wide range of things to collect from cards to gloves and equipment and even the "fringe" items like programs, and other paper associated with the game completes a wide panorama of things to attract young collectors who are now getting into the hobby, looking for Jersey and Bat cards.  For those who do not know, those cards include a small piece of a current player's jersey or bat into the card itself – representing a new trend in collecting.  "Gaining the information to get started in the hobby to be a savvy collector is the hardest thing, in my opinion."
These are archived stories from Mesa Legend editions before Fall 2018. See article for corresponding author.
Latest posts by Mesa Legend Staff (see all)