First Lady Jill Biden visits Mesa Community College
First Lady Jill Biden visited Mesa Community College on Monday afternoon to support the Mesa College Promise which helps high school students seek further education at MCC.
Biden was joined by Tammy Robinson, president of MCC, Steven Gonzales, chancellor of the Maricopa County Community College District, Greg Stanton, U.S. House representative, Katie Hobbs, Governor of Arizona, John Giles, Mayor of Mesa, and Miguel Cardona, U.S. Secretary of Education.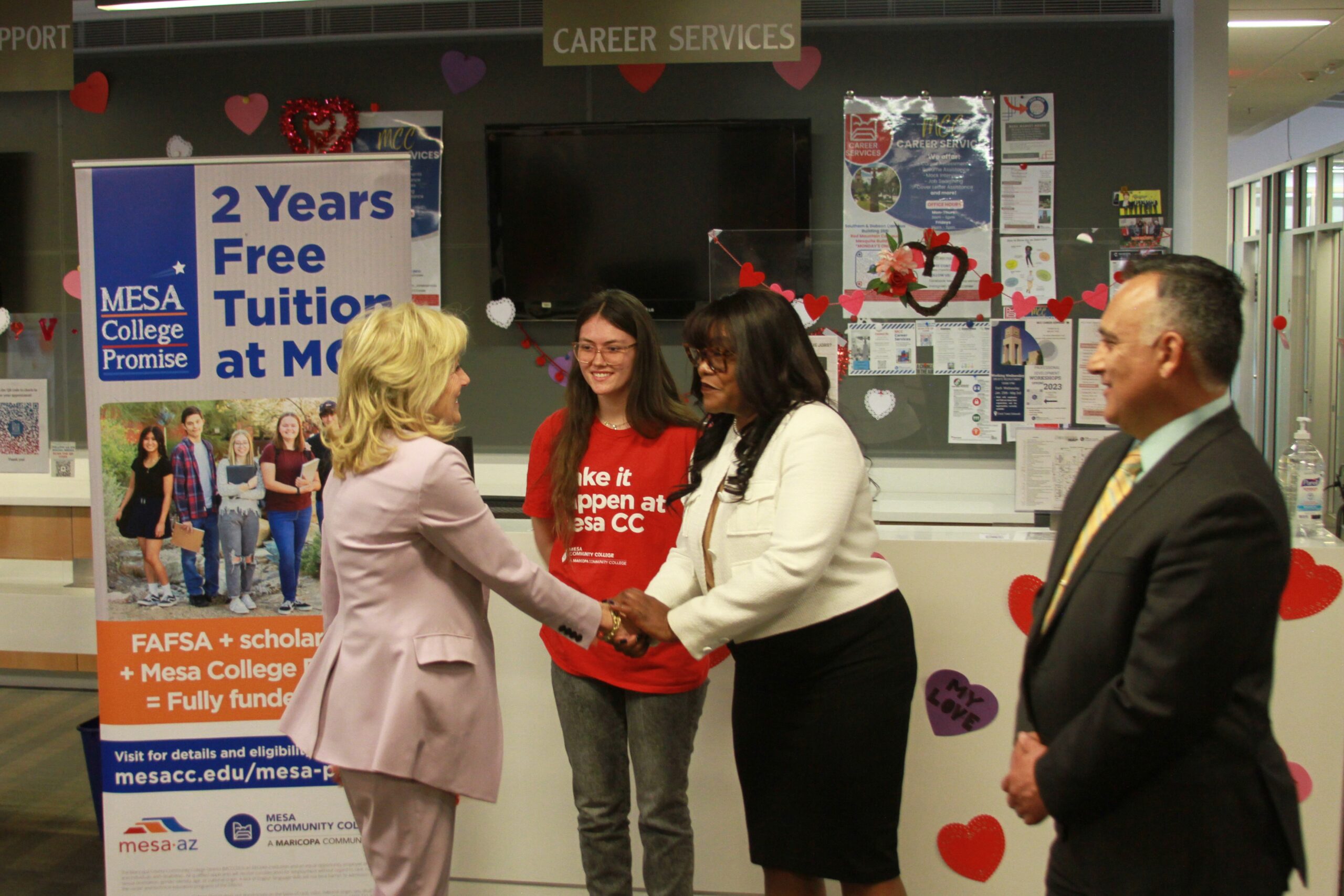 The Mesa College Promise was the main topic covered by officials, as the Biden administration sought to highlight efforts being made to make community colleges more affordable for students.
"Joe and his Administration are working to make Registered Apprenticeships and affordable community colleges available for all Americans," said Biden.
The Mesa College Promise is a scholarship program started in 2021 wherein high school students are offered aid in the form of tuition assistance, advisors to help create career pathways, and tablets for use in completing online assignments and doing research while in the program.
"The Mesa College Promise program affords us an opportunity to reach out to even more students. The program assists those who may not believe college is for them, or do not believe they have the resources to attend," said Robinson.
The City of Mesa began working with MCC in order to prepare students for the continually expanding job opportunities arriving to Mesa's business sector.
Cardona explained the communication from MCCCD to businesses growing into the city is what has helped create a clear plan to help students be prepared during their time at MCC.
"We need to be that concrete. What jobs will you need, and how do we build curriculum for here, and in the K-12 system, to feed up that," said Cardona.
The hope is for the increase in jobs opportunities to benefit families who have not had a member continue their education past high school.
"Over 80% of the participants in this program are first time college families. The thing we love about this program is that it's not just that your tuition is paid and we'll see you at graduation," said Giles.
First generation college students make up a large portion of those benefiting from the program, and one student spoke about her experience and how the program has affected her.
"I was accepted into the Mesa Promise program and the fact that I don't have to pay for tuition is the only reason I am able to stand here today. I still wasn't sure what I wanted to do, I was able to try new things. I kept changing my focus, from dental hygiene, to fashion merchandising. And finally I found a major I know I'll stick with, construction management," said Lilly Hernandez.
Hernandez is now majoring in construction management to help her family, as they are in the construction industry. Her father has even begun taking classes at MCC after being inspired by Lilly's continued education.
Hernandez was joined by many other students in attendance who have been given the opportunity to seek further education thanks to the Mesa College Promise program.
"For me, when I wanted to do nursing, they gave me the classes right away, the Promise program gave me sheets of papers with what classes I need. Honestly, without them, I'm not sure how far I would have gone," said Victor Medina, a student at MCC in his second semester.
Along with Hernandez and Medina, MCC student Makaylo Thompson has benefited from the program.
"I thought it was a great opportunity. It's not only a program that just gives you money, it really gives you a lot of resources, which in many ways is more important," said Thompson.
Both Medina and Thompson were made aware of the program while still in high school, and they credit their advisors at the time for educating them with the opportunity.
The relationships being built by MCC and local businesses are a model for how the Biden administration hopes other colleges across the country can better prepare students for jobs relevant to their communities.
"Across the country, we're seeing programs like this one bridging the gap between what students learn and the careers they will eventually find. And we need more communities to follow Mesa's lead," said Biden.