Former Mesa Community College baseball player achieves dream of becoming a major league baseball player
Former Mesa Community College student and baseball player Kody Funderburk played in his first MLB game on August 28, 2023 after years of hard work and training since being drafted by the Minnesota Twins in 2018.
During his time at MCC, Funderburk pitched in 23 games, pitching in 75.2 innings for a 4.76 ERA and a 1.72 WHIP. He also hit in 113 games, totalling 12 HRs and 86 RBIs on his way to a .369 BA, .465 OBP, and a .589 SLG. Funderburk was also named a First Team All-American in 2017.
Funderburk, who spent two years at MCC from 2015-2017, was drafted in the 15th round of the 2018 draft after spending one year at Dallas Baptist University.
The achievement is the culmination of a journey that started when Funderburk was just a child growing up in Arizona, playing little league baseball around the age of four.
"From about nine years old all the way up through high school, junior college and all of that, I was pretty much just playing baseball every weekend," said Funderburk.
Funderburk grew up a Diamondbacks fan, and his fandom only deepened his relationship with baseball.
Despite playing the sport all his life, Funderburk knew he needed to continue to improve and work on his game after high school.
"There are a few exceptions of guys who play right away at the Division I level, but I was not one of those guys. I knew that I needed the extra two years to grow not only physically but mentally as well," said Funderburk in a 2017 story with the East Valley Tribune.
When evaluating his options, MCC stuck out as a place for him to further his commitment to baseball and the grind of getting better with every opportunity.
Funderburk had heard about MCC from his head coach at Queen Creek High School, Mike Campbell, who played for the MCC baseball team under still current head coach Tony Cirelli.
"I kind of already knew what the program was about when they do the five a.m. weights and the six minute mile. It's a program that's super hardcore [about] the grind and baseball," said Funderburk.
It was this time that Funderburk had a decision to make. Attending MCC would be a two year commitment, not just to be a baseball player, but to be someone who embraces all that comes with being a student athlete pursuing the dream of becoming a professional athlete.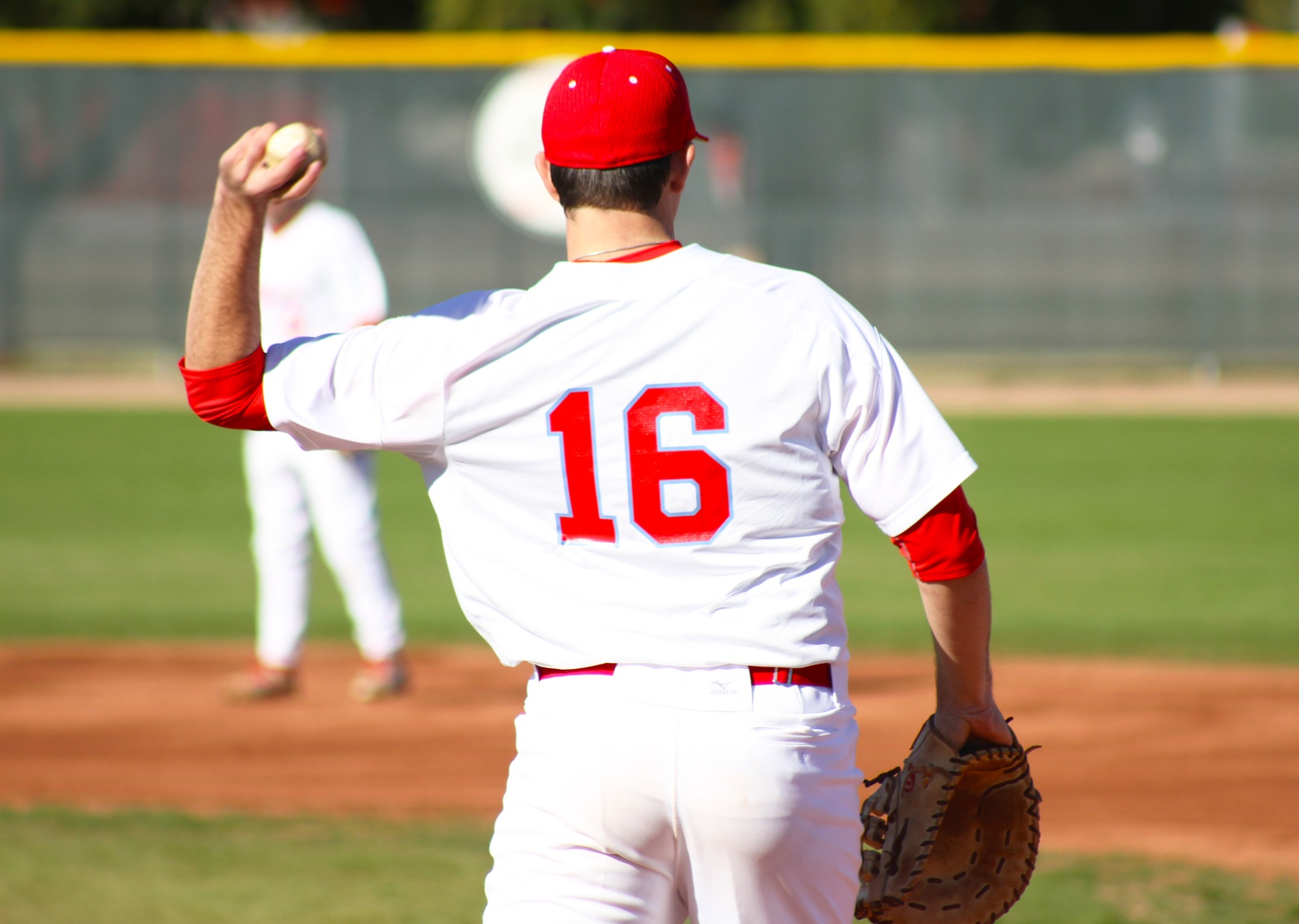 Funderburk warming up before a game during his time at MCC from 2015-2017. (Photo courtesy of the MCC athletics department)
"I wanted to go into nursing or something in the medical field, so that in it of itself was something that I struggled with because the classes can be super hard," said Funderburk. "It really made me dig down and make the decision internally of do I really actually want to spend my time trying to do this."
For these reasons, Dallas Baptist University also served as the ultimate next destination for Funderburk during his baseball journey.
Funderburk would ultimately transfer to Dallas Baptist University, a respected mid-major program that was quick to pursue him and make him an offer he could not refuse.
"When they called me it was pretty exciting. They were the first team that offered to send me out on a visit and they flew me out the next weekend or something like that," said Funderburk. "They gave me everything I wanted. The baseball program fit me as a person. I was really into baseball and grinding and work ethic and that's what that program is all about."
The draft often serves as a proverbial fork in the road for many athletes looking to achieve the goal of becoming a professional athlete.
For Funderburk, the circumstances he was facing ultimately led him to the decision to accept the contract offered by the Twins organization, and move on to begin his professional career.
Funderburk recalled the story of how he found out he was drafted by the Twins, explaining how hectic of a day it truly was.
"I was in my apartment family room with a couple of the guys and we had the draft up on the computer. Someone was following the draft tracker on their phone and it was ahead of the draft live, and he yelled out 'Holy cow you're going to the Twins!'," said Funderburk.
Funderburk's girlfriend at the time, now his wife, had packed up their things as he and his brother were planning to drive back to Arizona for the summertime.
Upon learning where he got drafted to, Funderburk immediately got into his truck and began the trek back to Arizona with his season at DBU finished and the summer months ahead.
Funderburk was also only still a junior when he was drafted, meaning he had eligibility remaining if he wanted to return to school for another year.
"I knew I was getting a good amount of money, and they were going to pay for me to finish school so in my head the only way DBU was going to be able to beat that was if they paid me, which obviously back then they couldn't before they changed the rules," said Funderburk.
It was the perfect combination of factors for Funderburk that allowed him to take the jump into professional baseball. However there was a bit of a caveat during the draft process, the Twins wanted him to be a pitcher, meaning he would have to let go of the hitting aspect of the sport.
While Funderburk pitched throughout his entire baseball career up to that point, it was not the focal point of his work, meaning he did not get the same amount of practice time that he would have had he been pursuing a pitching career from the beginning.
According to Funderburk, there was a level of adversity he had to work through at the beginning of his career while trying to work on his pitching.
"In my first two years because I was unsuccessful at pitching and I wasn't doing that well, I could feel it. I always felt like at a disadvantage because I hadn't had to practice those reps," said Funderburk.
It was after his second year when the COVID-19 pandemic struck, forcing sports leagues to halt operations indefinitely while the world worked through the crisis together.
As with many things in life, there is a silver lining to be found in something even as traumatic as the pandemic.
The pandemic offered Funderburk an opportunity to really hone in on his pitching, something that the Twins organization helped him work on and understand the areas in which he needed to improve most.
"Over COVID I really got a year to develop and actually practice all those reps I missed out on and I think that was a game changer. I was able to bounce back into 2021 and actually feel like a pitcher," said Funderburk.
Funderburk received the call up to the major league team on August 28, getting two innings of work and helping his team secure a victory against the Cleveland Guardians.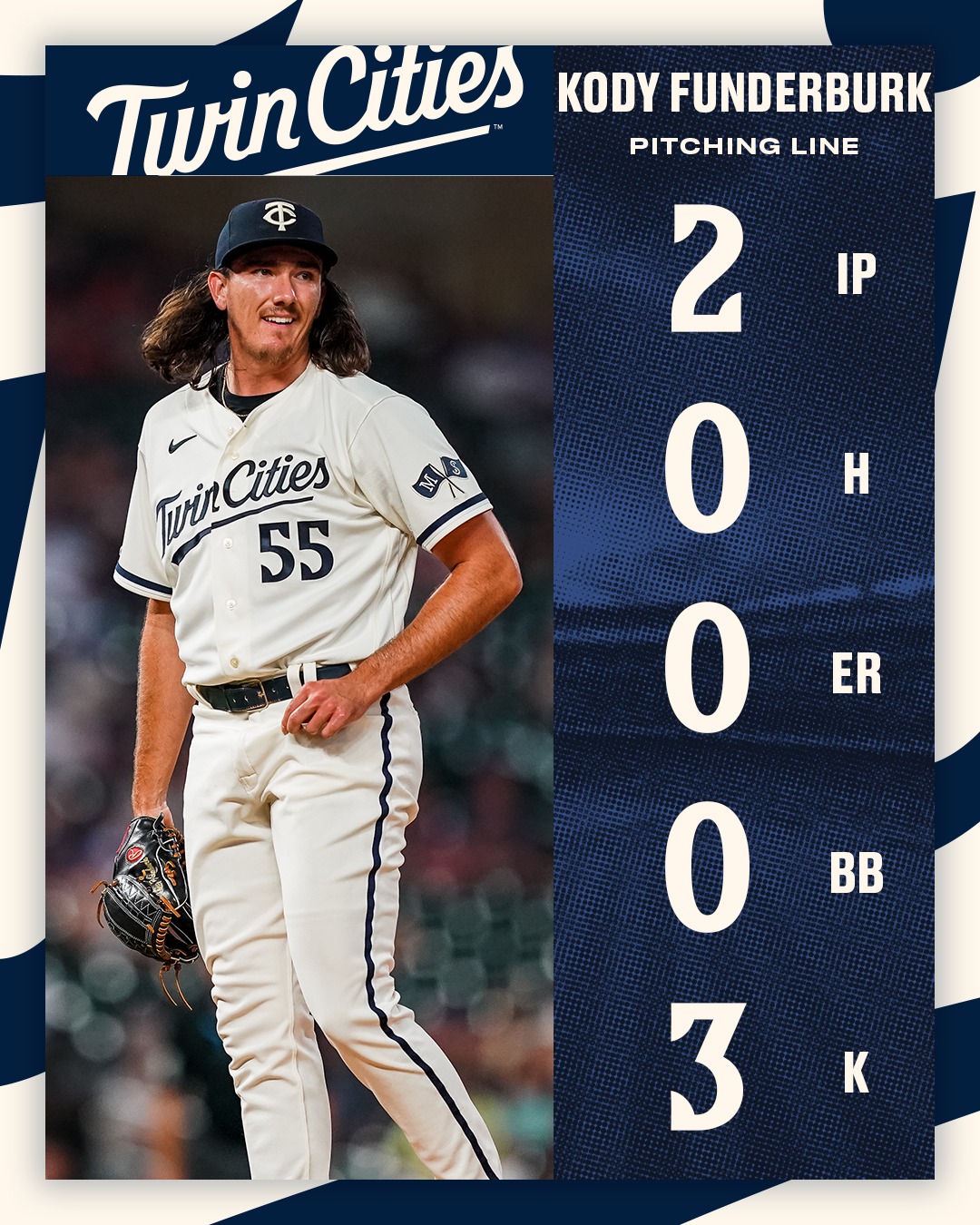 Funderburk's stat line after his two innings of work on August 28, 2023. (Photo courtesy of the Minnesota Twins Facebook page)
Now that Funderburk has been with the team for just under a month, he is getting more comfortable with the everyday routine of being a professional baseball player.
According to Funderburk, the most obvious difference between the developmental minor league and the major leagues are the accommodations. The team flights are an enriching experience, and the nice hotels are always welcomed.
Even though he is not able to play for his hometown team in the Diamondbacks, he is nothing short of ecstatic about his current team and the opportunity afforded to him by an organization willing to take a chance on a former community college baseball player from Queen Creek, Arizona.
Louie Varland and Matt Wallner are two teammates of Funderburk who are living out that exact dream of playing for their hometown teams. Both players are from Minnesota, and Varland even grew up in St. Paul, Minnesota, just down the road from Target Field, the Twins' home stadium.
"Obviously I'm super happy to be a Twin. The organization is great, their development and analytics and they really do care about developing players," said Funderburk.