Celebrating its 50th anniversary, 2015 marks a milestone for Mesa Community College.  It is a time to look back, and consider the advances that the school has made in the intervening years since it was established.  What originally began as an offshoot of Phoenix College in 1963, is now a college with a  satellite campus of its own.  Initially a small group of instructors and students, classes were held at what is now the Landmark Restaurant in downtown Mesa.  The college began with 11 full-time instructors during it's first semester, a number quite small compared to that of the residential faculty of the English department alone. The growth of the school as a whole parallels that of the number of instructors, and one of the defining moments in the history of the institution is when it became autonomous.
Breaking away from association with Phoenix College, the school became independent in 1965, and opened the Southern and Dobson campus the following year.  By 1968 the new campus was host to the first of many graduation ceremonies, where 253 students participated.  MCC joined the National Junior College Athletic Association (NJCAA) in 1968, and have gone on to win many championships and titles since. The school has grown a great deal over the years, with a student population that began with 330 registered students, to over 26,000 today.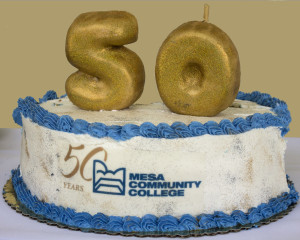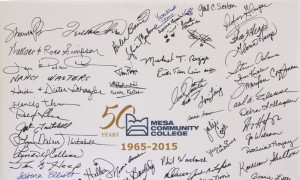 These are archived stories from Mesa Legend editions before Fall 2018. See article for corresponding author.
Latest posts by Mesa Legend Staff (see all)