"Lies." "Conspiracy." "Child Trafficking." These are the emboldened words printed on Republican pamphlets mailed door to door throughout the valley. An image of Kyrsten Sinema clad in a pink tutu is enlarged and centered.
As the election nears, ad campaigns like these have become more widespread across the Phoenix Area. McSally and Sinema lawn signs are propped all over the valley, but on television, the two candidates take a different approach to their campaigning.
Sinema's staff has stated that they wish to stick to the issues most important to Sinema which include Education, healthcare, veteran benefits, and Social Security.
Torunn Sinclair, McSally's spokesperson, has stated to AZ Central that, instead of the issues, their focus is on Sinema. "We're still focused on the primary which is why we're reserving it (funding). But we also feel like we can focus on Sinema," Torunn Sinclair said in a quote from AZ Central. "We're focused on Kyrsten and that's where Republicans should be focused."
While Sinema has raised $10 million in campaign funding, McSally has raised over $7 million.
$2.25 million of McSally's campaign fund is on reserve for the last four weeks of the general election which, according to newspaper reports, will be spent on advertisements against Sinema.
Their main focus has been the statement that Sinema backed a bill for child trafficking. Politifact states this is a false interpretation of components of the Keep Families Together Act.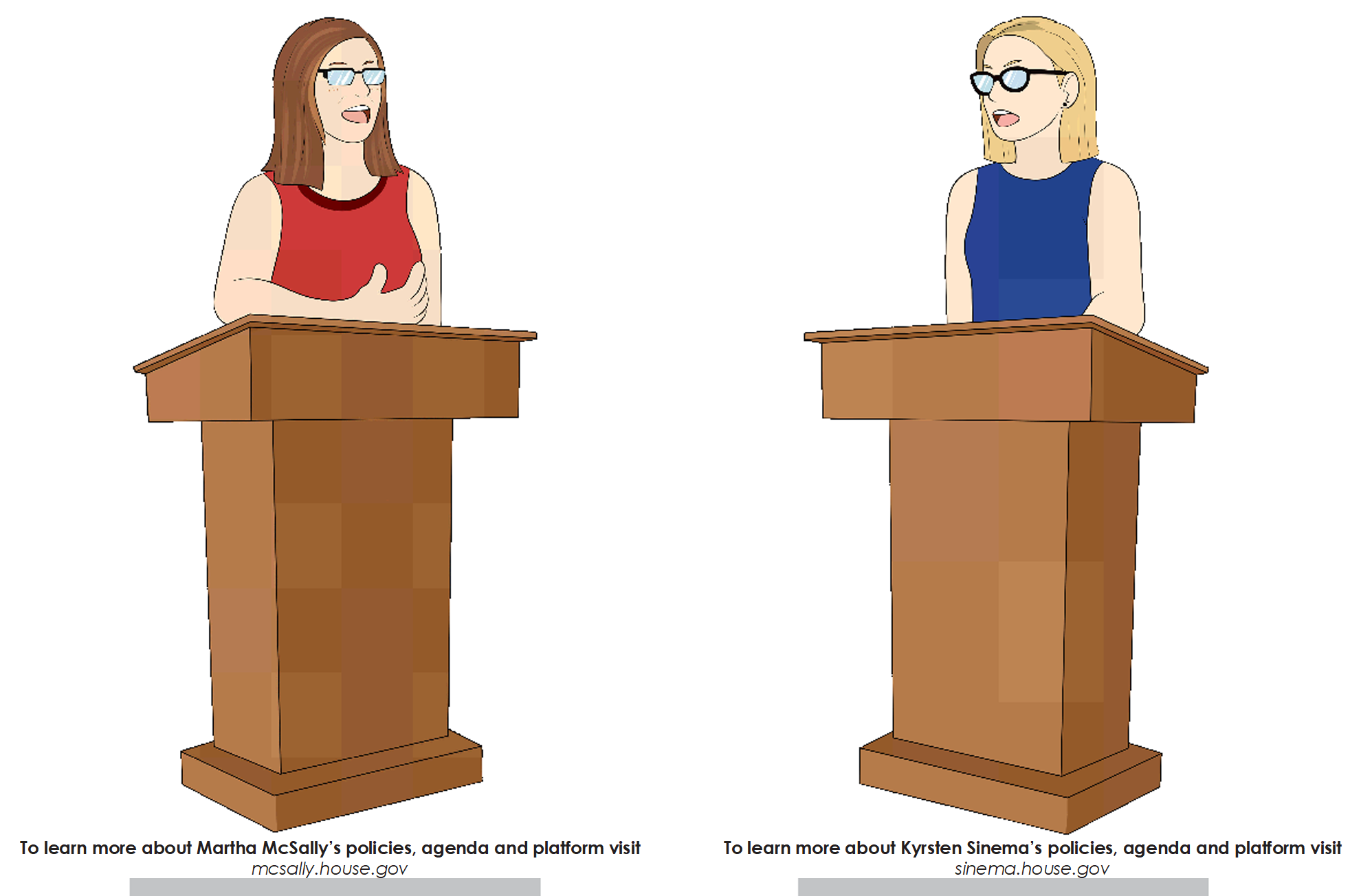 Cartoon by CJ Saviore/Mesa Legend.
As for politics, McSally's advertisements occasionally discuss her 26 years in the Air Force. Her website stating that since being elected into the House of Representatives in 2014, she's spent her years in Washington DC "on a mission to get results for the American people."
According to her campaign site, McSally focuses on employing veterans. She is focused on securing the Southwest border and fought for funding on the A-10 Warthog to provide Close Air Support to American troops. However, her campaigns rarely advertise these tidbits and instead focus on her opponent. "There's been a lot of votes in Congress which McSally supported that could restrict protection for citizen's healthcare," said James Owen from Kyrsten Sinema's campaign. "It's unfortunate but not surprising that McSally will say or do anything to distract from her harmful record."
But, how do Republicans feel about McSally's campaign strategy? On campus, they have mixed feelings. "I do like them (the ads)," said Mesa Community College student, Amanda Slade. "But, I don't think she's telling the truth. She has the same ideals that I have. But I haven't seen actual things that she's done to prove them, so, it's sort of hard to figure it out.
Polls released by Arizona newspapers hint at a close tie between the candidates with the hint that Sinema might come out on top. But, another poll hints at the same victory for McSally all due to her edgy campaign strategy.
At the Students for Sinema event in Tempe on Oct. 2, Kyrsten Sinema talked of the difference in her campaign versus McSally's. "You all know how important it is for us to make the case in this election of the clear difference between our campaign which is a campaign that stands for everyday Arizonans, and the campaign that's full of lies and attacks run by my opponent."
The Sinema campaign even reached out to McSally for a debate to discuss the issues, not just what has been said during campaigning. "About a month ago, we joined McSally to join in a debate," said Owens. "She finally accepted but rejected a debate in Tucson in front of her own constituents."
The Mesa Legend contacted Torunn Sinclair and McSally's campaign multiple times for a comment but did not get a response.