Kian Hagerman
Mesa Legend

The end of the presidential election draws near, and students at the MCC Southern and Dobson campus had a mixture of responses regarding the nominees. Some are sure of who they want to see as commander in chief, while others are either undecided, or disinterested entirely. MCC student Paul Kiernan is probably voting "for Hillary Clinton, because I like the Clintons a lot. I always have." Kiernan also appreciated Secretary Clinton's experience. "She's already been in office before," Kiernan said. "Both when her husband was in office and when she was Secretary of State; so she already knows a lot of the politics that goes on in the White House anyways." Fellow student Zoe Simkins voiced a distaste for both Donald Trump and Clinton.
 "Well, I'm going to vote for Hillary, but I don't think that either one is the best candidate," Simkins said.  She added that she thought Trump was racist and sexist. "I don't think he would make a good move for our country," Simkins said. "Not only is he reactionary, but how is he going to talk to other leaders … if he has his own agenda?" Some questioned the validity of the process. "With the joke of how everything has been going … politics has not really encouraged me to have any cast," said MCC studennt Chance MacDonald. "Whether or not that would be counted, and whether or not that would mean anything, is very, very debatable in my opinion." Cassie Williams had chosen to leave the choice to her fellow citizens. "If I hear something that I like, I'll look into it," Williams said. "This year I am hands off; whatever happens, happens." Whether one chooses to vote or not, and which candidate wins, the victor has only until Nov. 8 to wait.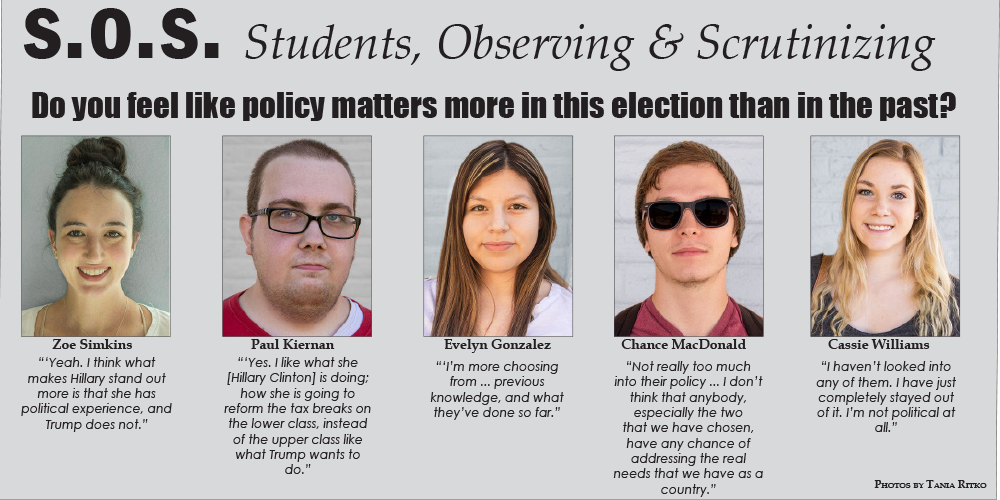 These are archived stories from Mesa Legend editions before Fall 2018. See article for corresponding author.
Latest posts by Mesa Legend Staff (see all)