MCC men's tennis team only has one championship to date, that was back in 1972 when Lot Christensen led the T-Birds.  During this run Christensen, led the T-Birds to 29-1 overall and 12-0 in conference play season. This season, the men started off the season with dreams of advancing to the NJCAA National Championship in Plano, Texas this May.  The only things in front of them were D1 and D II schools, other community colleges, and schools they play every year.  Opening day for the T-Birds this season couldn't have gone any better. They claimed victory after a 9-0 shutout of Imperial Valley on Feb. 6.  "For us, it was a good way to open with a shutout the first match of the season, it set the tempo for us for the rest of the season," said Andy Nguyen.  With this shutout in mind, MCC went on to win the next four games in which two were 9-0 shutouts as well.  "At times it can be hard to win a shutout, but with an amazing group of guys pushing each other to get every single point possible we can come out on top," said Nguyen.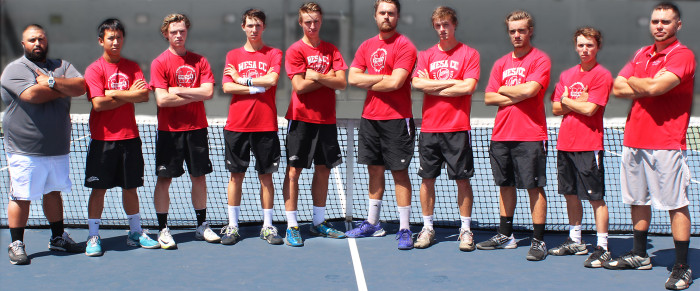 This season Mesa had a total of nine shutouts, which included Imperial Valley, Paradise Valley Community College, Pima Community College, Glendale Community College, College of the Desert, and Skaggit Valley.  During this run, Mesa was able to accomplish back-to-back shutouts twice on the season and one back to back to back on the season. Both back-to-back wins came when they played a conference game one day and the next day they were playing another team not in the conference.  "To me, the nine shutouts means a lot for our team, it's a stat we're definitely proud of because it shows what were capable of," said Max Wightman.  "With all of this, our program is one of the most-respected programs in the nation, we can even compare ourselves to a NCAA D1 program," Nguyen said.  "At the end of the day, though, there's still a hint of disappointment we weren't able to get more of them, because we had a couple of 8-1's that could have gone 9-0," Wightman said.
Overall, though, our team is less focused on how many shutouts we got this season and more focused on the national championships and winning.  Nine shutouts is definitely going to positively impact MCC tennis for years to come, what were doing on this team is really rare in this region.  "I hope that we leave behind a legacy of high caliber tennis at MCC for years to come," Wightman said.  What's even more impressive is their 6-0 record against the conference with all six recoded as shutouts.  Just like in 1972, MCC tennis won all of its conference games except they played in 12 conference games versus six like this season. "For us, the future looks bright if we keep getting high-quality wins both in and out of conference play," said Coach Adam Cohen.
Next season it is my goal to have more international players on the team because currently there is a limit to how many can be on your team and by next year the limit will come off.  "Everyday I get calls from people all over the world wanting to come play MCC tennis because of what they have seen and heard," said Cohen.  "Athletics don't have a rule on how many, but says we have as many as we want, but players have to be able to get the proper training to become better or else it would fail in its mission."  "For me, when I look back to the regular season, I can see that they want to win and understand the opportunity that they have in front of them, said," Cohen said.  After playing nine events in the Region I tournament and winning seven the Mesa-T-Birds are bound for Plano, Texas.  The T-Birds will play May 11 – 15 for the NJCAA National Championship.